Asphalt Paving and Repair in Philadelphia
We provide asphalt services, seal coating and line stripping to commercial parking lots, churches, hotels, private roads, shopping centers, and malls.
New Asphalt Installation
Made from a durable composite, asphalt offers a smooth, tough finish that's ideal for residential and commercial paving alike. Whether you're looking to install a brand-new parking lot, pave a private road or revamp your driveway, our asphalt experts can complete the job on time and for an affordable price. Our expert technicians are up to date on the latest city and state paving codes, as well, so you can feel confident.
Asphalt Repair Services
Our paving team also specializes in reliable asphalt road repair in Philadelphia, PA. Over time, cracks and potholes can appear in asphalt surfaces. Along with impacting the appearance of your property, these issues may make the road unsafe for pedestrians and drivers alike. From basic patches and pothole repairs to complete repaving jobs, we offer a wide range of asphalt repair services to keep your Philadelphia, PA, asphalt looking pristine.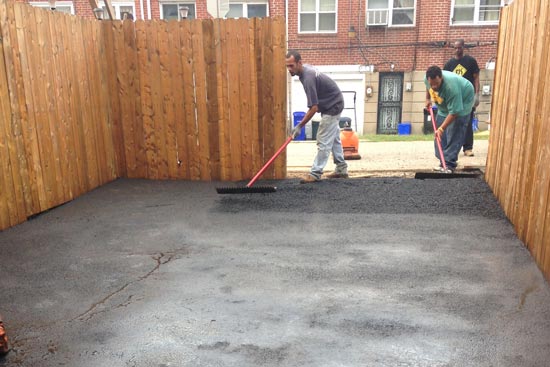 Wide Variety
To that end, we provide a wide array of expert asphalt repair services in Philadelphia, PA, and beyond. And, because we utilize the highest-quality equipment and hire experienced personnel, you can rest assured the end result will exceed expectations. Trust us to bring your roads, parking lots, drive-thrus and more back to great condition.
---
Premier Local Pavers
Make sure your outdoor space portrays your home or business in the best possible light. Ready to schedule an asphalt paving consultation with our team? Call Philly Concrete & Asphalt Paving, Inc., today at 215-594-6325 or contact us online.